Open Toptrouwlocatie Route
Fletcher Hotels, 25 June 2023
From 11:00 up to and including 16:00 Hour.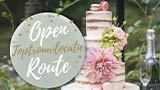 Bezoek op 25 juni 2023 één of meerdere Fletcher trouwlocaties tijdens de Fletcher Open Toptrouwlocatie Route. Jullie zijn van harte welkom tussen 11:00 en 16:00 uur en wordt feestelijk ontvangen door onze medewerkers. Samen worden alle mogelijkheden voor jullie huwelijksdag besproken en krijgen jullie een inspirerende rondleiding om de sfeer te kunnen proeven van deze unieke locatie(s).
Meedoen is makkelijk! Meld je vooraf aan. Zo kan de locatie jullie bezoek inplannen en wordt drukte vermeden.