Booking.com7.7
TripAdvisor.nl7.0
Zoover.nl5.6
Google8.2
Our fitness center is currently closed. Our apologies for the inconvenience.
Luxurious hotel in Vlissingen aan zee
The luxurious Fletcher Hotel-Restaurant Arion-Vlissingen is located in Vlissingen, with a historic city center on one side and the vibrant boulevard with a beautiful beach on the other site. This luxurious 4-star hotel has all facilities you need for a care free stay!
Luxurious hotel at the coast in the city center of Vlissingen
Culinary hotspot Marina Lounge Vlissingen
Restaurant NEXT by Fletcher
Official wedding location
Located nearby Zeeuws Maritiem MuZEEum
Culinary visit
In the culinary hotspot Marina Lounge Vlissingen we serve the most delicious dishes in a luxurious setting according to the shared dining concept. You cannot only enjoy a delicious dinner, but also join us for an extensive breakfast, a tasty lunch or a lovely drink. Besides Marina Lounge Vlissingen the hotel also houses the next door restaurant NEXT by Fletcher right at the boulevard for those who prefer Asian cuisine and delicious cocktails. Here you can enjoy culinary creations with a Japanese twist in a beachy setting. Enjoy it on a spacious terrace with a view of the sea. Both restaurants are perfect for business and festive gatherings. Marina Lounge has a multifunctional room which can be completely arranged as one wishes. Everything is taken care of. This way you only have to focus on having a wonderful time.
Beautiful surroundings
The surroundings of Vlissingen are perfect for combining a city trip with a day at the beach. Rent an e-bike at the reception desk and discover the dunes and the coast line of Vlissingen. Do the prefer the city? A leisurely stroll through the city or a day of shopping with the hotel as a perfect starting point. A day out with the whole family? Visit the Reptielenzoo Iguana or Deltapark Neeltje Jans.
Our team warmly welcomes you!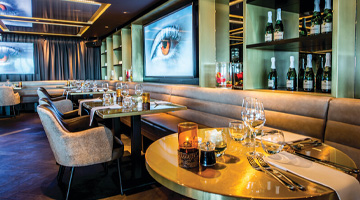 Restaurant
In the culinary hotspot Marina Lounge Vlissingen you are at the right place to combine a day at the beach and lounging with luxury enjoyment. The chef prepares the most delicious dishes for you with passion, while you are completely pampered by the hospitable staff.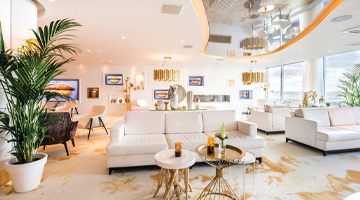 Photos and videos
Want to get in the mood before you come to our hotel? View the photos and videos of our hotel here.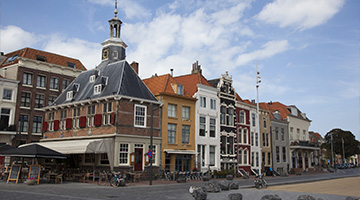 Discover Vlissingen
Vlissingen is known for the maritime atmosphere on the busy boulevard and the historic city center. Take a walk through the city or explore the area by bike for the ultimate holiday feeling.